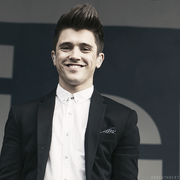 Jamie 'JJ' Hamblett was born on May 25, 1988 in Gloucester, England. He is 1/4 Norwegian, and is the oldest member of Union J. Even though he is the oldest, he gets teased for being the slowest, hence why he was given the nickname Dopey Spice.
Before the X-factor, he was an extremely talented jockey, but stopped because he wanted the pursue his music career. He even rode in front of the Queen. He worked as a model and actor before auditioning as a part of Triple J. He also had an online resume which you can find when clicking here
His favorite judge on the X-factor was Louis, understandably so and his bandmates often comment that he sleep-shouts and sleep-walks. He is a belieber, and one time his mother brought him to a therapist because he made a new language with his brother.
JJ and his girlfriend Caterina became parents on November 28th, 2013, to a baby boy named Princeton J Alexander.
Facts
Birthday
May 25, 1988
Birthplace
Gloucester, England
Star sign
Gemini
Height
5'9
Eye color
Brown
Hair color
Brown
Favorite movie
I Love you man
Biggest fear
Of elastic bands
Tattoo count
Unknown
Relationships

Girlfriend Caterina Lopez

Son Princeton J Alexander
Gallery