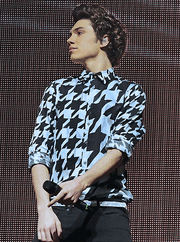 George Shelley was born in Clevedon, North Somerset on July 27, 1993. Even when just a toddler, George was always keen to be part of family get-togethers, getting his mother, Toni Harris, to fill up bottles with rice to use as a maraca. His parents got divorced when he was young, and he lived with his mother.
He taught himself to play with help from his granddad when he got his first guitar at the age of 13. He struggled with his weight and bullies as a child, but claims his guitar helped get him through it.
Before fame, he worked part-time in Costa Coffee in Weston-super-Mare. He attended Weston College and completed a BTEC Extended Diploma in Graphic Design. George owns three pet hamsters called Steven, Gloria and Oliver.
He first auditioned as a solo act with the song Toxic by Britney Spears, and the X Factor producers wanted George to join MK1 originally, however he chose to join Triple J. George Shelley is the youngest member of the band, which changed their name to Union J.
George has talked to the members of One Direction, as well as Jaymi , Josh and JJ , and Harry Styles gave him advice like not to cut his hair! Fans of One DIrection have claimed that he is the child of members Louis Tomlinson and Harry Styles.
Facts
Birthday

July, 27, 1993
Birthplace
Clevedon, North Somerset
Star sign
Leo
Height
5'10
Eye color
Brown
Hair color
Dark brown
Favorite color
Red
Favorite song
Live It Up by Tulisa
Favorite TV show
Big bang theory
Favorite food
Spaghetti Bolognese
Favorite animal
Monkey
Favorite fruit
Bananas

Family

Parents

Toni Harris (mother)

Dominic Shelley (father)

Siblings

Tom, Will, Leo, Archie, Harriet, Louisa and Annabelle.
Gallery